Yoga by Candace Interview
Good morning!  Carry Your Om is excited to share with you our interview with Candace, founder of Yoga By Candace. 
Candace is is an entrepreneur, owner of Namaslay® Studios, the author of the best-selling book Namaslay, and a full time international yoga instructor, healthy living blogger, YouTube partner, founder of Mantra Box®.  She is a trauma informed E-RYT 500hr yoga teacher and holds a Personal Training Certification from the National Academy of Sports Medicine.  Read below as we talk with Candace about her beginnings of yoga practice and its intersection with Lyme disease, and how she has transformed that experience into helping others around the world.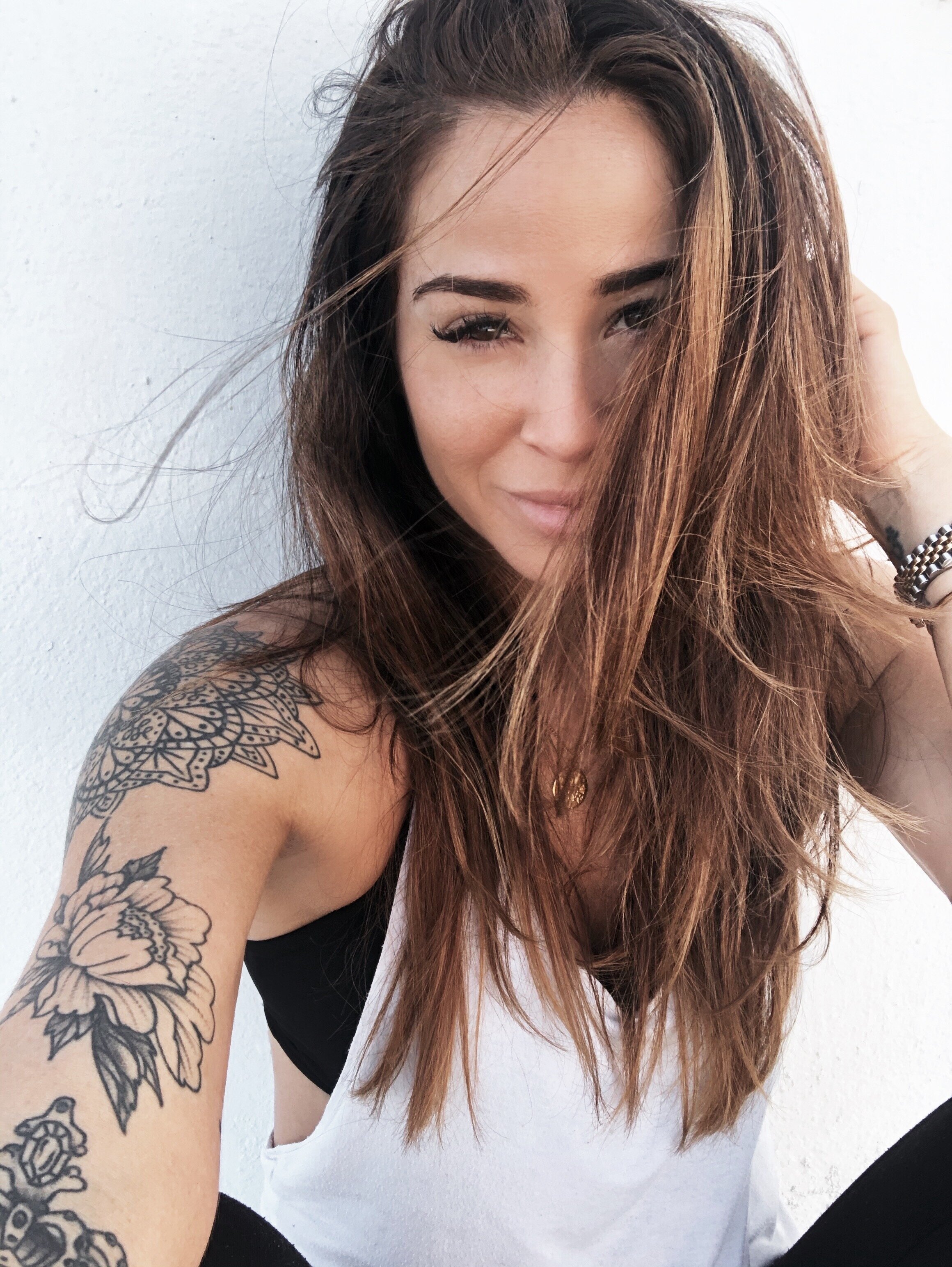 CYO:  Let's start at the beginning, you became ill in 2010 and were eventually diagnosed with Lyme disease…what about that process turned you to yoga and wellness?  Had you practiced prior to that time?
Candace:  I started practicing yoga when I was fifteen, dragged by mom to Kripalu, a yoga center that was close to us growing up.  I really loved it, and continued practicing throughout my life.  When I was sick with Lyme Disease, I actually couldn't practice at all because even just a short walk from one end of my apartment to the other exhausted me and my joints were affected, so Lyme didn't bring me to yoga at all - it made me yearn to get back to my yoga practice.
In 2012, you traveled to Thailand to complete your 209 hr ashtanga yoga teacher training…what led you to Thailand to gain that certification?
Honestly, I think I just googled 'Yoga Teacher Training Intensive' and picked the first one that seemed like it had a knowledgeable teacher behind it.  At that time, yoga wasn't very popular, YouTube yoga and social media wasn't much of a thing, so I had to go by what I found on the internet.  I wanted to study under someone who was very traditional, so I wound up going with Mark Ansari, a direct student of Patthabi Jois. 
I had a chuckle on your Instagram stories when I read you hosted your first retreat in 2014 in Santa Barbara and it was a bit of a bust financially, but that you learned so much from the experience and here you are 5 years later with successful retreats in Africa, Costa Rica, Greece, Italy under your belt!  As a fellow entrepreneur, I can relate to picking yourself up and dusting yourself off…what advice can you share for those in similar situations of beginning a new journey and hitting those bumps in the road?  
My biggest tip is to reinvest back into your company from the start.  It might seem tempting to pocket the money you earn and buy yourself something nice, but I strongly advise against that.  You have to spend money to make money, so put it back into the business so that you can take the imminent hits that will come - and they will come - that's just part of being in business for yourself.  I lost over a thousand dollars on that first retreat, but it taught so much that I wound up using that experience as an example in the online Business and Marketing Course I developed for yoga teachers.  In it, we cover everything about retreats and I share what I did wrong so others don't have to go through that. 
You've had amazing opportunities to travel to many amazing locations around the world, did you travel much growing up?   What spurred your passion to travel?
No, I didn't travel much growing up.  I come from really humble beginnings.  My first major experience traveling was in high school.  I was in an unhealthy relationship my junior year of high school and my mom found American Field Service, an exchange program, and convinced me to apply to study in Costa Rica.  I lived with a Costa Rican family, went to local public school there, and learned Spanish.  I think that sparked my love of travel.
Let's talk about some of the amazing retreats mentioned earlier, which was your first international retreat and what did you gain from the experience?  
My first international retreat was in Ibiza.  I'd gone because my students had asked that I put it on.  I had been living, at the time, in Germany, and had been teaching at a number of fitness studios in my area.  By the end of my time in Germany, my students asked that we go on a retreat, so I picked Ibiza.  I had a European agent at the time, and she planned everything and we simply showed up.  It was a beautiful experience.
This is a tough one, which of your international retreats has been your FAVORITE?  
They're all amazing in their own right, but one of my favorite locales is Kenya - we've gone twice on safari there and it's just unlike any other place I've been.
What advice do you have for someone who may be thinking of attending a retreat but has never done something like this before?  I can imagine our being home-bound with COVID-19 is sparking wanderlust in people's minds!  They should take that leap when this is over.  
My biggest piece of advice before going on a retreat is to try to get the vibe of the teacher/students prior to going.  Retreats are expensive, and you'll spend a lot of time with the teacher and other students, so you want to be sure you're of the same vibe.  You also want to get in touch with your

WHY

.  Why are you going on this retreat?  Are you looking for a challenge?  If so, a seven day, silent retreat might be for you.  If you're looking for adventure with likeminded people, a YogaByCandace® retreat might be for you.  If you want something super traditional to yoga, no coffee, no wine, no meat, then you may want to seek that out specifically.  (CYO note, see this

link

for blog post by Candace on how to choose a yoga retreat).  

   
I like how in addition to your yoga retreats, you offer marketing and business retreats.  What do those retreats entail and what is your goal for attendees?  
Those are essentially continuing education retreats.  They're for yoga teachers who are looking to take their offerings and business to the next level.  That's a lot of fun because everyone in the group is a yoga instructor with the same goal, so they'll often go off on their down time and do content photoshoots, and talk about the strategies of the classes I've just led.  I am busy the entire time - not teaching yoga - but teaching courses on how to understand the social media 

algorithm, how to plan, market and execute successful retreats and workshops, how to pitch for sponsorships and more. 
You have a retreat to Greece scheduled for November, what can attendees look forward to on the trip?
So, it's actually one of our Teacher Trainings.  It is a 200 HR, Yoga Alliance approved, teacher training.  Students can join us in Greece for a personally transformative yoga teacher training experience.  The 200hr Namaslay® Curriculum is one of the most comprehensive and unique teacher training programs out there.  Details are available on our website,

www.YogaByCandace.com

.   The Namaslay® Yoga Teacher Training program is intensive.  It is no joke.  This is not a relaxing, care-free retreat, but rather an introspective, rigorous program that will be physically and mentally demanding.  This is a time for deep, intensive self-study that will not only better your own life, but brighten the lives of those you reach through your teaching.  This training is for people who aren't 100% satisfied with where they're at.  It's for people who are ready to make a change, but who might be a little apprehensive about taking the first step.  This training is for people who want more out of their lives, who feel that deep down, they possess a profound inherent strength and gift, and are looking for a training to help them bring it to life.
Our thanks to Candace for giving of her time for this interview.  We hope you will check out her website and social feeds for more information on retreats, training, podcasts, online yoga videos and much more!   As always, we'd love to hear from you and where YOU like to 'carry your om' -CYO
---